Kubota Tractor Australia
For almost 40 years Kubota Tractor Australia has been Australia's leading supplier of agriculture, construction and power equipment.
Kubota's extensive product range is renowned for its high performance, durability and reliability, and is specifically engineered to excel in Australia's tough and diverse conditions.
Kubota is committed to protecting our environment and has invested in advanced technologies to offer equipment that provides powerful performance while reducing emissions.
Whether you're looking to grow your business or simply keep your property in top shape, Kubota has the products, experience and support to help you choose the right equipment to suit your needs.
Tractors
Mowers
Utility Vehicles
Brushcutters
Excavators
Track Loaders
Wheel Loaders
Skid Steer Loaders
Engines, Generators
Hammers
Power Packs
Spreading Equipment
Cultivation Equipment
Seeding Equipment
Specialised Turf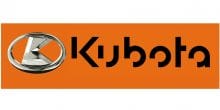 VIEW FULL RANGE